Facilities at Peninsula Behavioral Health
Port Angeles Main Office
118 E 8th Street, Port Angeles
(360) 457-0431
Peninsula Behavioral Health has grown from a staff of seven founding employees in 1971 to over 140 today. We have expanded our campus to include three offices: the Horizon Center day-use facility, the Crisis Respite Center, the Arlene Engel Home, and three additional adult transition homes. 
Our 8th Street location serves as the main hub of our agency (pictured here). The office is over 26,000 square feet and includes more than 60 offices and conference rooms and a large multipurpose room with a kitchen.
Sequim Office
490 North 5th Avenue, Sequim
(360) 681-0585
Our Sequim office is open Monday-Friday and is conveniently located on 5th Ave. Our Sequim office includes six offices and a flexible group room. Peninsula Behavioral Health staff rotate through the Sequim offices based on client needs.
Our Sequim office recently got a fresh coat of paint (Jesse Major Photography)
Youth Services Center
112-A E 8th Street, Port Angeles
(360) 457-0431
The PBH Youth Services Center was opened in 2019 to provide a designated space of healing for youth, children, and their families. The Youth Services Center includes 11 offices, a conference room and a flexible resource room for play therapy.
This incredible space was only made possible with the support of our community and our generous donors. Check out the progress pictures below!
The brand-new Youth Services Center (Jesse Major Photography)
Front Street Clinic
621 E Front Street, Port Angeles
(360) 912-8133
PBH opened the Front Street Clinic in 2020 and now share the space with Clinicare of Port Angeles. This expansion opens up room and flexibility for our team to provide more services to individuals with all types of insurance; from those uninsured to those with Medicare, Medicaid, and private insurance. 
Horizon Center
223 E 8th Street, Port Angeles
(360) 457-0431
The Horizon Center is an intensive Day Support Program that provides life skills training and a meal for PBH clients Monday-Friday.
In 2019, the Horizon Center was moved from its location on Lincoln Street to its new location at 223 E 8th Street. The Horizon Center reopened in January, 2020.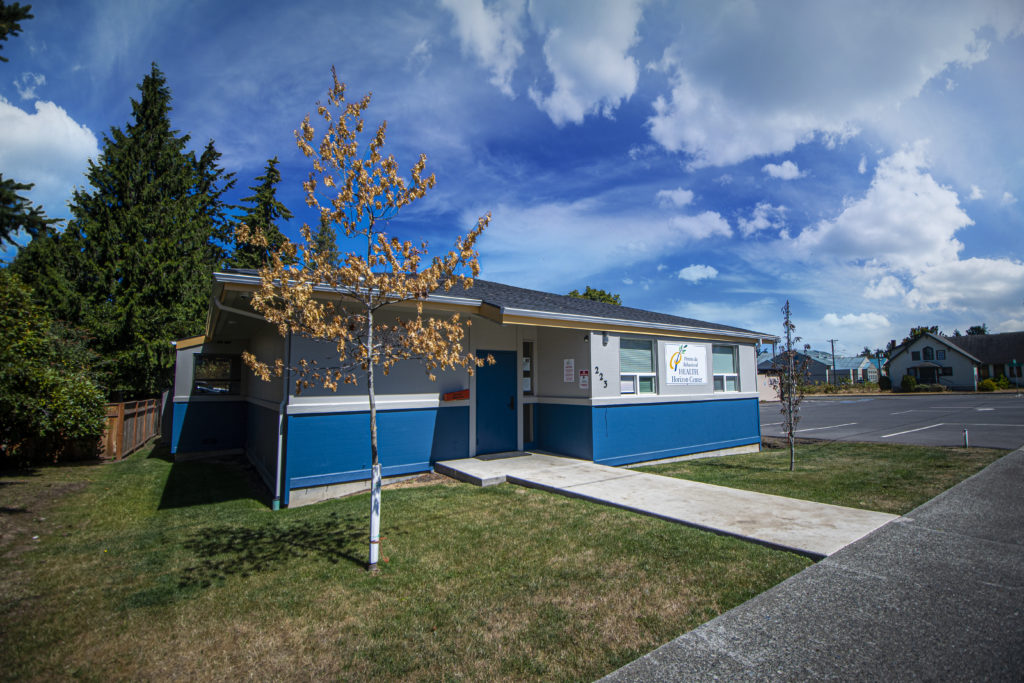 The Horizon Center at its new location (Jesse Major Photography)
The Horizon community room. (Jesse Major Photography)
Arlene Engel Home
Private Address
(360) 457-0431
Our Arlene Engel Home is a 19-bed assisted living facility. PBH staff provide 24-hour care to support residents with severe and persistent mental illness. The historic home sits overlooking the bluff in Port Angeles.
AEH residents experience a welcoming homelike environment. (Jesse Major Photography)
Supported Living Homes
Supported living homes are supported living arrangements with partial supervision. Clients who live in one of our three homes are provided necessary aid to promote and maintain independent living in the community.
Learn more about the history of Peninsula Behavioral Health
PBH was founded in 1971 with a staff of seven. Today we employ over 130 and see over 3,000 Clallam County residents. Click here to learn more about the history of Peninsula Behavioral Health.