The Story Behind Peninsula Behavioral Health
Peninsula Behavioral Health started small but is now recognized as Clallam County's primary resource for behavioral health and substance use disorder counseling. Last year our staff of 150+ provided care to over 3,000 of our local neighbors including almost 900 children. 
Although we have always existed as a private, nonprofit community mental health center, Peninsula Behavioral Health has gone through several name changes to reflect our mission's expansion and a more sophisticated public perception of our role within the community. In 1975, the organization's name was Peninsula Counseling Center, and in 1991 it was renamed Peninsula Community Mental Health Center. In 2012, we became Peninsula Behavioral Health.
PBH is primarily funded through a combination of state and federal dollars and depends on the generous support of individuals and community partners to bridge the gaps for underinsured patients. PBH is a 501(c)(3) nonprofit organization. Some services are made possible by a $2M CCBHC Expansion Grant through SAMHSA.
History
1971 – Dr. Norm Peterson founded the agency in a building on Albert Street with seven full-time employees and a budget of $100,000. It was a discrete and safe place to provide mental health and developmental disability treatment to our rural community.
Circa 1975 – The agency had grown to twelve full-time employees. They moved across the street to a bigger building, and it was named Peninsula Counseling Center.
1980 – Norm Peterson stepped down as executive director and Don Zanon was hired to take his place.
1984 – Clallam County received state referendum funds to provide day treatment to adults with severe mental illness. Horizon Center was built and Peninsula Behavioral Health created the adult day support on Lincoln Street.
1987 – PBH opened an "Adolescent Transition House" on W 12th Street to provide short-term residence for girls in crisis.  "ATH" closed its doors in 1997 after DSHS discontinued funding. Today, the residence is home to adult clients with significant mental health needs.
1988 – The Board approved purchasing a 19-bed assisted living facility for adults with severe and persistent mental illness.  (In 2011, the building was renamed the "Arlene Engel Home" in memory of the woman, who, for decades, was a staunch advocate for individuals with mental illness.)
1993 – PBH opened a facility in Sequim, originally named the "Community Resource Center," but since 2012 it has been known simply as the Sequim Office of PBH.
1994 – The Board authorized renting a house on E 4th Street in Port Angeles as the first of several supported living facilities for low-income consumers with mental illness.
1995 – The agency was gifted a house on 16th Street to expand the Children's Center.
2000 – The Board authorized purchasing the building at 118 E 8th Street, which is now the agency's hub. In 2004-05 the 'East Wing' of the building was incorporated and the agency underwent a significant remodel to expand from 14,000 to 26,000 square feet with room for 60+ offices. The renovation allowed enough space for the Children's Department to eventually become a part of the main campus.
2004 – The Board approved purchasing property on W 2nd Street and renamed it "Parrish House" to honor the family who made its purchase possible.
2006 – Don Zanon retired as executive director, and Peter Casey was recruited from New Jersey to lead the agency.
2009 – The agency purchased the building at 112 E 8th Street, then occupied by the St. Vincent de Paul thrift store.
2012 – Peninsula Community Mental Health Center changed its name to Peninsula Behavioral Health and adopted the slogan, Helping People Grow and Change.
2014 – Approximately one-third of the 112 Building was renovated to accommodate the Clallam County Respite Center.
2016 – Peter Casey retired, and Wendy Sisk was promoted to Chief Executive Officer.
2018 – PBH welcomed Genoa Healthcare Pharmacy to our site for efficient monitoring and convenience for clients and staff. In addition, construction began on the remaining two-thirds of the 112 Building to make way for a separate Youth Behavioral Health Center.
2019 – A year of tremendous growth. In late spring, the Horizon Center was moved (the entire building was picked up!) and relocated from Lincoln St. to 8th St. The Youth Services Center opened in August and a former medical office (Clinicare) was purchased to expand our Adult Outpatient Services in the fall. To celebrate change and honor our clients, we also adopted a new slogan: Hope Starts Here.
2020 – (Exciting growth information coming soon!)
Do you remember when 8th St looked like this?
Our main office was once Nailor Lumber Co.
Don Zanon cutting the ribbon at our main hub.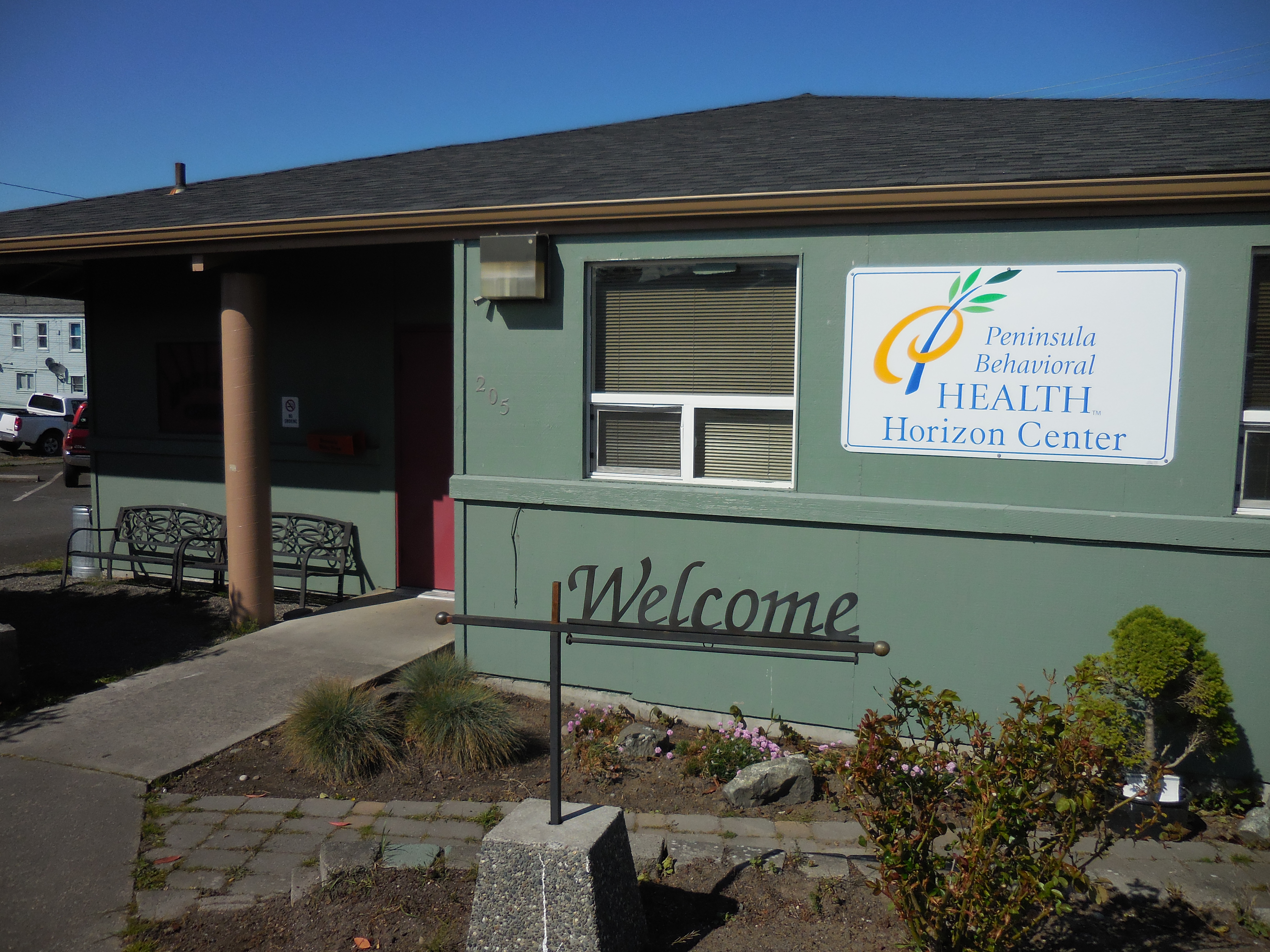 The Horizon Center was built in 1984 and moved to 8th Street in 2019.
Transforming the old St. Vincent de Paul Thrift Store into the new Youth Services Center
PBH staff took to the streets for the 2017 walk for suicide prevention.
As of 2019 the PBH team has grown to over 150 staff.